Reviews of Pure Silence: Lessons in Living and Dying, a CD by Mark McCloskey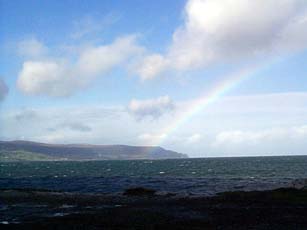 [Now available: The entire Web site in E-Book form with a Text Reprint of the Pure Silence CD: Lessons in Living and Dying]
Pure Silence: Lessons in Living and Dying is Mark McCloskey's gift to us. Listening to his voice, coming from the Silence, may resonate with you in a most gentle way. You may feel as if you are listening to yourself. Consciousness is speaking to itself. Because in this Pure Silence, we are all One. And it is a great joy to hear the One Self speak these words of wisdom.
This CD invites the apparent seeker to rediscover its very origin. When the invitation is accepted, then it is seen that there is only the Pure Silence ... the uncaused, unchanging, impersonal stillness from which unconditional love overflows.
These words of Mark leave you silently smiling. Highly recommended.
Jan Kersschot, author of "Nobody Home" www.kersschot.com
---
"Mark McCloskey invites you to question the story of who you think you are and then gently points you to the source of Being, Itself. This CD inquiry is a sacred journey with Self into the very heart-of-hearts. Highly recommended." Chuck Hillig, Author of "Enlightenment for beginners" and the upcoming "Seeds for the Soul" Visit Chuck's web site at www.blackdotpubs.com
---
"This CD is very good, really, and I do resonate with the simplicity, the clarity, and the heart of what Mark has to say."
Joan Tollifson, author of Awake in the Heartland and Bare Bones Meditation. http://home.earthlink.net/~wakeupjt/
---
Mark McCloskey has come out with a CD titled Pure Silence - Lessons in
Living and Dying. It consists of Mark sitting in the Pure Silence and
sharing with us the Who, What, Where, When, Why, and generally How-to
of knowing this experience ourselves. This unique outpouring from one
who speaks from the Silence of the heart of the heart within, is a
great pointer to those who are seeking, and a joy to those who sit in
Pure Silence themselves. More information about the CD can be found on
Marks excellent web site at: www.Puresilence.org
Bob Rose: Meditation Society of America www.meditationsociety.com
---
Mark McCloskey is a capable guide into the silence within. He makes it clear that the absence of words is not silence; but rather a clear abiding in consciousness. There is an inner urge to relax, let go and be at peace as you listen to his words. I highly recommend this CD to everyone seeking their own inner peace...and pace.
Vicki Woodyard
Nurturing the Now
http://www.bobwoodyard.com
---
Pure Silence: Lessons in Living and Dying, is an audio CD produced, written and presented by Mark McCloskey. McCloskey is a businessman (a seafood importer), married with two children, living in the Philadelphia , Pennsylvania area. The CD, consisting of eleven tracks, is professionally packaged, produced, and shipped. The first and last tracks match a professional female voiceover and instrumental music composed by McCloskey, smoothly and appropriately complimenting McCloskey's spoken text, which is the body of this work.
From the CD liner: "The tracks on this CD were recorded as is: spontaneously. After spending some time abiding in silence I picked up a microphone and started speaking from my heart with all sincerity. There was no rehearsal; nothing was written beforehand. Rather, all the words arose from the Pure Silence of Being itself. I have merely spoken them to you with my own voice. The tracks were made over a period of 4 weeks in my home as I felt the truth well up in my heart. The real Author of these is the One Self, the One Spirit, that which has been called 'I AM'."
In the first track the female voiceover says, "There is a movement across the earth today. It is a gentle, flowing compassion slowly overtaking the planet. People are waking up to the truth of who they really are and of what this life and existence are all about."
"Gentle and flowing" describes the feel of this CD. Offering quotes in this review does not convey how McCloskey's voice fills the room at times when suddenly his message gets personal. It doesn't convey how, when sitting quietly and listening, he tugs at the silent space within, opens it and brings it forth. Throughout the CD there is the constant reminder to return to silence within, to an awareness of being. The pacing of McCloskey's presence and message is like the spacious and peaceful breaking of waves upon a shore.
McCloskey attempts to connect with the listener by showing an understanding of the reason people are listening to the CD, which he offers is a search for freedom and happiness, as something is "not quite right."
In describing pure silence, he says it is "the core of your own being ... your awareness that you simply are your true self." He also calls pure silence the "essence of all spirituality," and "simply consciousness itself." Other descriptions are given during the talks.
McCloskey speaks about methods for touching pure silence. Though he says no particular method is necessary, he mentions meditation and contemplative practices. He also asks the listener to consider moving deeply into one's religious tradition.
There are constant reminders throughout the CD which are variations of the following: "the sense of I Am, the source of you, the sense of freedom within, is pure silence. The Self, which is God, is you, now." He speaks of giving up the past through the realization of pure silence. McCloskey describes the experience of pure silence as "deep abiding freedom" that grows with time. "It is an experience of the moment without belief, concept or 'I'."
On the track entitled Being Nobody, he says, "By just being nobody, who you are, you're free from the need to be somebody in particular." This nobody is the pure silence, he says.
There is a fifteen minute track on confronting death, that begins with the question, "Who will I be when I'm dead?" This is followed by the track entitled 'A Tradition of Silence'. He says that at the core of any religion is a tradition of silence. If the listener is not resonating with McCloskey's offering, it is suggested that a practice of silence, of contemplative prayer is found within all major religions.
This CD would be of value to anyone whose practice or simple pleasure includes listening to a speaker who comes from the silent place within. The CD may be ordered at McCloskey's website: www.puresilence.org. As of this writing, there is a link to some thirty minutes of sample tracks.
Jerry Katz: The Non-Duality Salon www.nonduality.com
---
Listened to "Pure Silence" CD. Wonderful! The core of ourselves, "Pure Silence," simply and beautifully expressed word lessons. Focuses broadly yet directly upon the issues in simple, clear terms. The whole concept and production of this CD is indeed a gift for those who may have the inclination to begin the more conscious journey and enquiry into who they are.

My congratulations and best wishes in creating this gift from the Heart.

Maurice www.radicalconsciousness.net
---
We received your CD this morning and listened to it this evening. The packaging is great and it felt good. We sat back, dimmed the lights and listened to your introduction and to you. I would definitely recommend it to anyone who is searching and in need of answers. It is wonderful.
Burt
Harding
www.burtharding.com
---
I have listened with great pleasure to your CD. It is a great gift to all people who seek what is beyond their ego and mind.
I would recommend it to beginners, as well to advanced seekers on the path towards spiritual awakening - Pure Silence.
These are the same experiences I have been living through. Your words come from the Self and and enter the Self.

I have always enjoyed reading the words of spiritual masters. Just a few words were enough to bring the mind back to silence. I believe that listening to your CD can do the same to whoever listens to it attentively, with their heart and mind.

You have done a really good job. This is the CD which can help to awaken people to their true essence. There are many books on spiritual awakening and inner silence, and it is time for a CD on this subject to appear. Your CD really
delivers the message clearly and to the point.


Remez Sasson
Success Consciousness
URL: http://www.SuccessConsciousness.com
---
I really like your CD. I received it Friday and have listen to it over the weekend. It is very good, as is your website on Pure Silence. As a lover of the silence, I don't think you have said anything that I did not agree with. Thank you again for the website and the CD. I am glad you shared this.
Dr. Robert Buck Goyer
---